More Productive, Precise, Versatile Fabrication
PythonX SPG doesn't just propel you ahead of the competition – it can open up opportunities that had been out of reach. More complex parts, bigger projects, shorter lead times all become possible, thanks to world-class innovation:
8-Axes of robotic plasma cutting.
4-Sided Cutting reaches every profile surface.
300 Amp Plasma System cuts up to 3.3″ deep.
'Hands Free' automatic job setup is fast and error-free.
Pipe Cutting Option for both straight and bevel cuts up to 16″ OD.*
FullCircle® CNC Software controls all aspects of production, plus integrates part detailing, nesting and production efficiency tracking.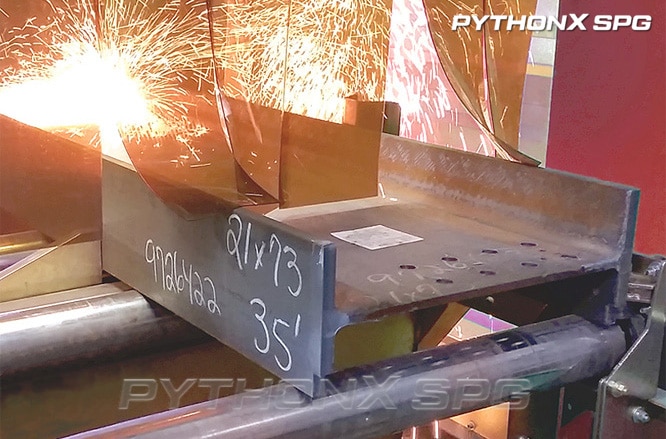 Material Sizes for Processing with PythonX SPG

| Profile | Minimum | Maximum |
| --- | --- | --- |
| Beam (web height) | 4 in. (100 mm) | 44 in. (1117 mm) |
| Beam (flange width) | 4 in. (100 mm) | 17 in. (430 mm) |
| Channel (height) | 3 in. (76 mm) | 18 in. (457 mm) |
| Channel (width) | 1-1/4 in. (31.75 mm) | 5 in. (127 mm) |
| Angle | 2 × 2 in. (50 x 50 mm) | 8 × 8 in. (203 x 203 mm) |
| HSS | 3 × 3 in. (76 x 76 mm) | 24 × 20 in. (609 x 508 mm) |
| Flat Bar | 3-3/8 in. (85.73 mm) | 13.780 in. (350 mm) |
| Bulb Flat | 6.3 × 0.275 in. (160 x 7 mm) | 13.4 × 0.47 in. (340 x 12 mm) |
| Round Pipe (O.D.) | 3 in. (75 mm) | 16 in. (400 mm) |
Standard Equipment and Features
Rugged, multi-axis industrial robot (total 7 axes)
High definition, high power 300 amp plasma system
65′ infeed/outfeed conveyors, loads up to 12,000 lbs.
Air pressure booster system, up to 220 psi
FullCircle 3D nesting/cutting/tracking software suite
Bolt-quality holes using proprietary software
Optional Equipment
Material transfer system (up to 12,000 lbs. max load)
Pipe cutting/marking system for thick-wall pipe*
Integrated dust collection system.
PythonX SPG System Layout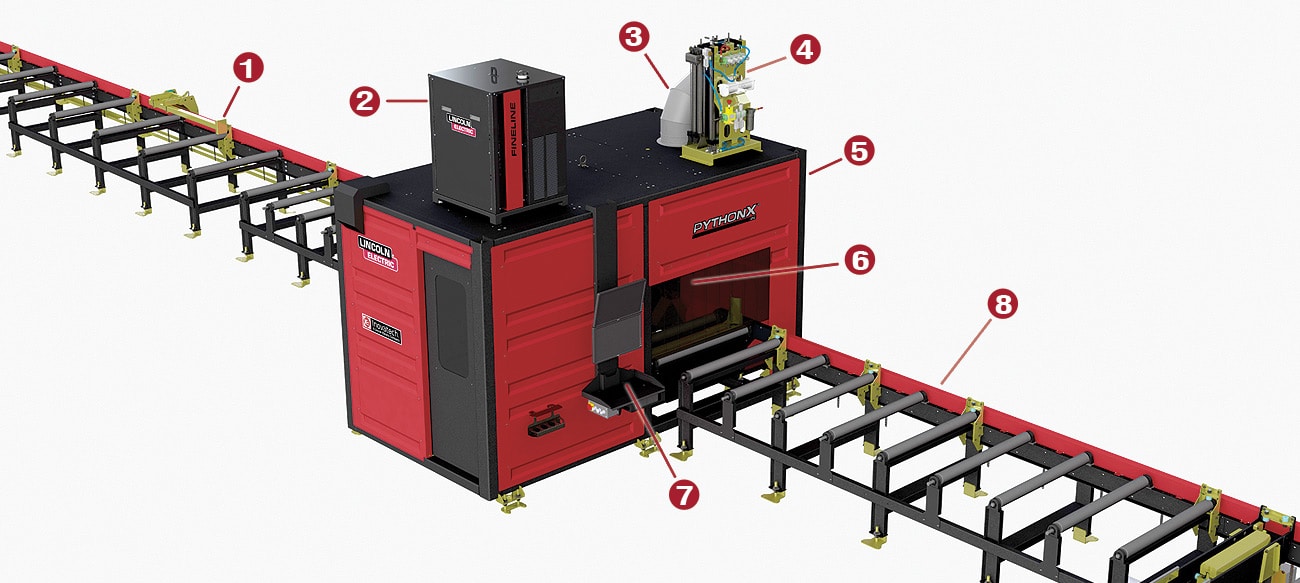 Torque-Sensing Follower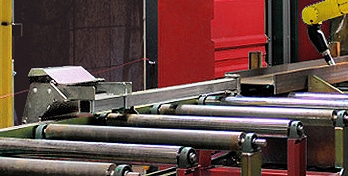 Servo motor integrated absolute encoder ensures cut-to-size stock is processed correctly. It detects beam ends – no need to grind beam end and no touch-sensing mechanisms that can fail due to rust, or issue false positives.

High Definition Plasma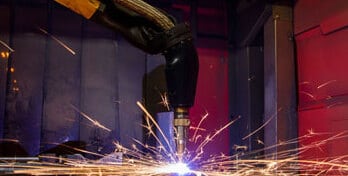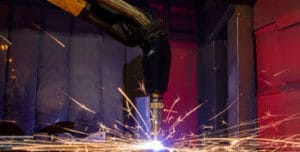 PythonX SPG features a high-power 300 amp plasma system. It cuts up to 3.3″ (83.82 mm) thick with automated gas control. It employs a patented technology to achieve near 'drill-quality' bolt hole roundness and taper.

Integral Downdraft Venting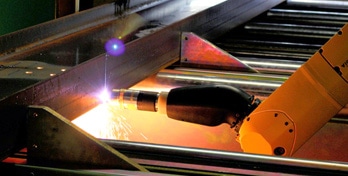 A controlled fume extraction system provides maximum efficiency, operator safety and improvement in the shop environment. This optional feature integrates with popular 3rd party dust collection systems.

Integral Pressure Booster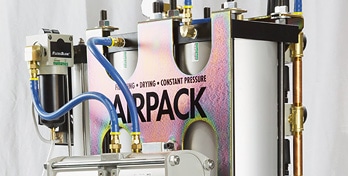 The integral pressure booster allows you to run your compressor normally (100 psi) without effecting your shop air. The AIRPACK comes standard to supply clean, dry, 220+ psi air to the machine. Meets plasma specifications.

Safety Enclosure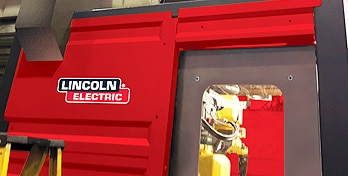 Built on a solid frame which reduces vibration for reliable, repeatable processing. The cabinet provides a safe processing environment –  interlocking access door, observation windows, spark and noise reduction curtains.

8-Axis Robotic Cell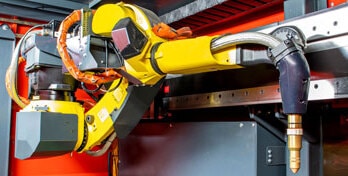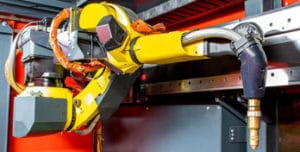 Industrial robot coupled to a precision gear track provides excellent cutting accuracy. Thru-Arm technology lets the torch travel through the robot arm, improves cable management and the holder will not bend during a collision.

Operator Station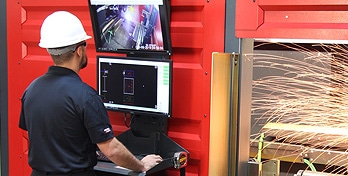 Ergonomic operator station performs control, monitoring and communicates all machine functions. Ships standard with an industrial PC and FullCircle software suite to administer batch operations and real-time control.

Conveyors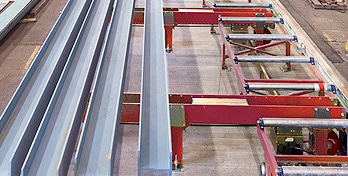 Up to 65′ (19.8 m) processing capacity, the 48″(1219 mm.) chain-driven solid steel rollers manipulate workpieces up to 44 ' (1118 mm.) wide, 750lbs./foot.
FullCircle Robotic CNC Software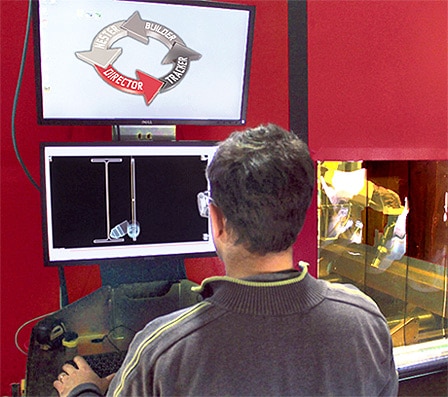 FullCircle software, standard on PythonX SPG, boosts your productivity, cuts costs, and controls every aspect of production. But it's much more than a machine control:
Auto Height Control extends consumable life
Perform on-the-fly path jogging and editing
Maintain detailed parts production tracking
Optimize leads, paths, and plasma settings
Optimize production efficiency using archived machine statistics
Share real-time data with plant personnel
It's four software modules – Builder, Nester, Director and Tracker – are another reason PythonX SPG leads the industry in versatility and performance.
BUILDER




Quickly, easily detail parts from scratch. The part drawing can then be used to auto-program the machine.

NESTER




Nest structural profiles and complex jobs with ease. Minimizes scrap and material handling.

DIRECTOR




Confidently produce parts and control all aspects of the production process. Includes automatic height control feature.

TRACKER




Automatically stored machine statistics let you analyze production so you can increase efficiency.
Case Study in Productivity and Versatility
Fabrication Products, Inc. of Vancouver, WA enjoys a loyal customer base, but found themselves 'stuck' in reaching their growth goals. They wanted to automate, and in 2017 chose PythonX SPG. As soon as they installed the SPG, they had a major test of its capabilities ready to run.
They had  orders for 200 beams needing five 8″ holes cut across the beam – completely through both flanges and the web – at a 15° angle. An 8″ OD pipe is welded into each hole, along with reinforcement plates on the flanges (see slides).  They had made these special beams before: each hole took 90 minutes to cut manually, so the cutting portion on one beam was 10+ hours.
Enter PythonX SPG. The detailed drawing for the beam was loaded into FullCircle, the bare beam was loaded on the conveyor and 'START'. Result: 5 through holes in 15 minutes. The 200 beams were run in just 50 hours. And the quality was far superior to what Fab Products had been able to produce in the past. As a bonus, PythonX SPG can also cut the cut the 8″ pipe and the reinforcing plate that gets welded to the '15 minute beam.' Now that's versatility.*
* Please discuss your pipe or grating needs with us to confirm PythonX SPG can make the cuts you intend.