We are PythonX,
A Lincoln Electric Company
We are completely focused on applying LEAN Manufacturing and Automation Principles to structural steel industries through the implementation of the PythonX STRUCTURAL Fabrication System. The drive to improve the capabilities of our clients, to ensure they are better than their competitors, is a passion our employees embrace every day. We are dedicated to making our clients as good as they can be, better tomorrow than today, by committing to continued Research and Development, providing value added industry leading Upgrades as well as Real-Time and Interactive Remote Support on the PythonX STRUCTURAL system.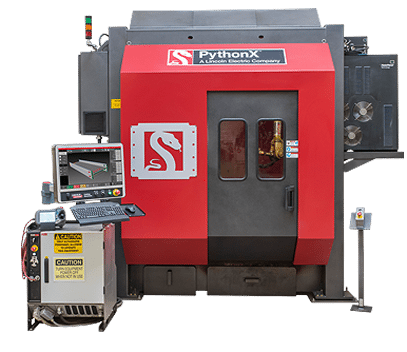 We operate a complete demonstration center at our design and manufacturing facility, and encourage prospective customers to visit and see PythonX STRUCTURAL in operation and inspect fabricated parts.
Burlington Automation
8 Enterprise Cres
Waterdown, Ontario
Canada L8B 0Y2
North America Toll Free: 1 833-PYTHONX
Phone: +1 905 689-7771
Fax: +1 905 689-7773
Lincoln Electric is the world leader in the design, development and manufacture of arc welding products, robotic arc welding systems, plasma and oxy-fuel cutting equipment and has a leading global position in the brazing and soldering alloys market. Headquartered in Cleveland, Ohio, Lincoln Electric has 60 manufacturing locations, including operations and joint ventures in 19 countries and a worldwide network of distributors and sales offices covering more than 160 countries.
Our enduring passion for the development and application of our technologies allows us to create complete solutions that make our customers more productive and successful. We distinguish ourselves through an unwavering commitment to our employees and a relentless drive to maximize shareholder value.
For more information about Lincoln Electric and its products and services, visit the Company's website  www.lincolnelectric.com