A New Standard for Plate Processing
PythonX PLATE is a next generation robotic cutting table that powers up both your productivity and part quality. It offers greater reliability and ease of use compared to non-robotic plate cutting tables, plus the ability to process all types of profiles easily and quickly .
While PythonX PLATE is high tech, it also feels very familiar. Its design integrates standard plate-cutting methods and shop terminology, and it uses standardized controls. In fact, users remark that it operates the same as any XY plasma table.
But when it comes to versatility and cutting speed, the similarities end, because PythonX Plate is in a league of its own.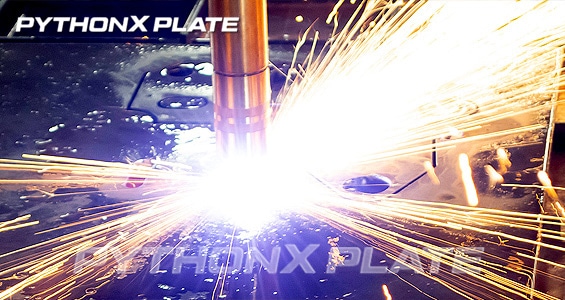 Plasma Cutting Capability
PythonX Plate Plasma Cutting Depths

| Material | Pierce Depth | Severence Depth |
| --- | --- | --- |
| Mild Steel | 1-3/4 in. (45 mm) | 3 in. (75 mm) |
| Stainless Steel | 1-1/4 in. (35 mm) | 2 in. (50 mm) |
| Aluminum | 1 in. (25 mm) | 2 in. (50 mm) |
Standard Equipment and Features
Rugged, multi-axis industrial robot (total 6 axes)
High definition, high power 300 amp plasma system
High precision camera to locate the plate
Air pressure booster system, up to 220 psi
FullCircle™ 3D nesting/cutting/tracking software suite
Oxy-fuel Cutting
Optional Equipment
Integral downdraft ventilation system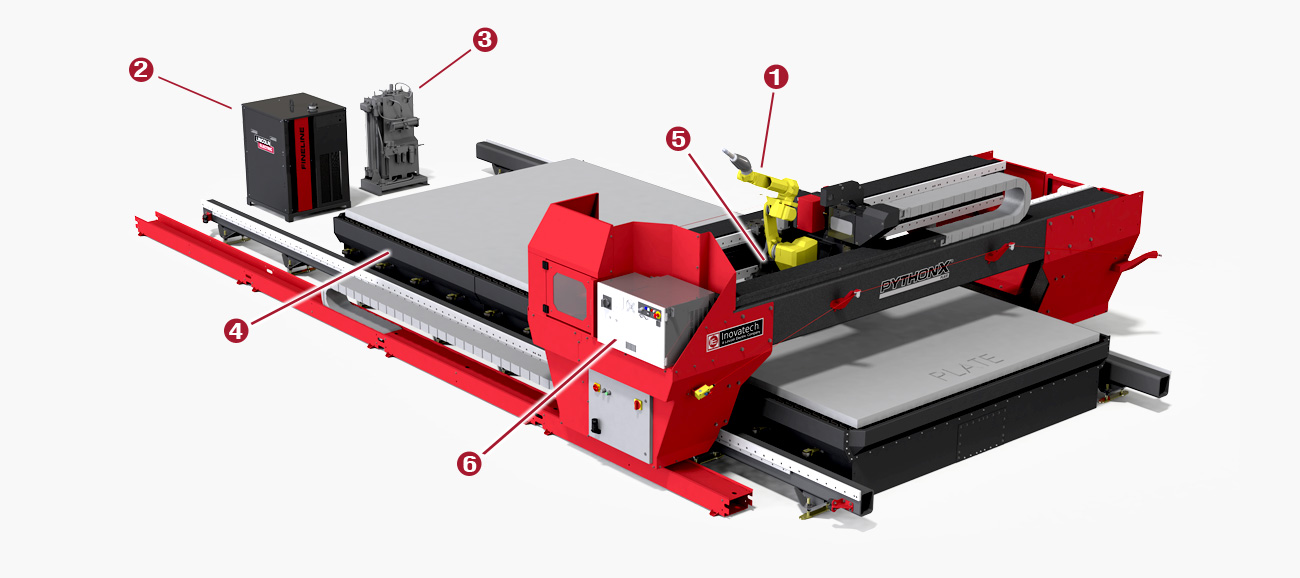 6-Axis Industrial Robot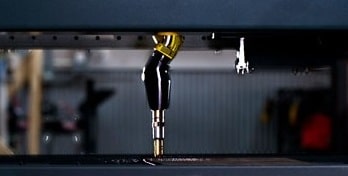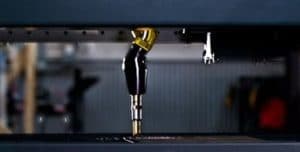 An industrial robot coupled to a precision gear track provides excellent cutting accuracy, repeatability and versatility. Robotic arm offers infinitely more flexibility than 2D plasma torch to produce a much wider array of parts.

High Definition Plasma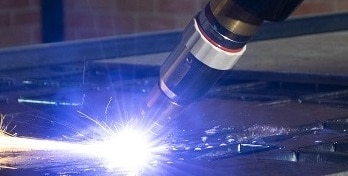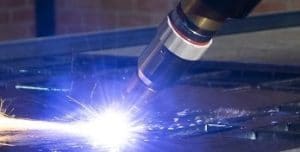 PythonX PLATE features a high-power 300 amp plasma system. It cuts up to 3.25″ (80 mm) thick with automated gas control.

Integral Pressure Booster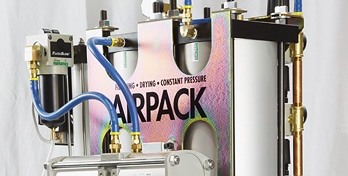 The integral pressure booster allows you to run your compressor normally (100 psi) so as not to effect your shop air. The AIRPACK comes standard to supply clean, dry, 220+ psi air to the machine. Meets plasma specifications.

Integral Downdraft Venting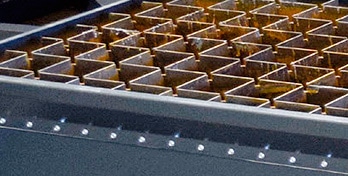 A controlled fume extraction system provides maximum efficiency, operator safety and improvement in the shop environment. This optional feature integrates with popular 3rd party dust collection systems.

Camera Plate Squaring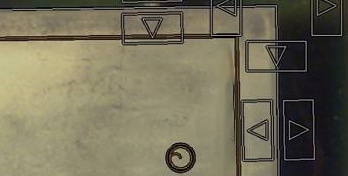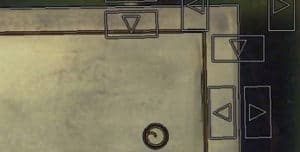 A high-precision camera locates the plate so the system can begin cutting without delay – eliminates manual setup and plate repositioning. Cuts bevels and AISC compliant bolt holes without operator intervention.

Operator Station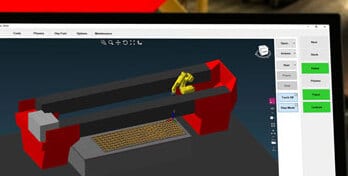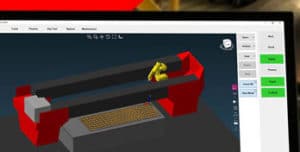 Ergonomic operator station performs control, monitoring and communicates all machine functions. Ships standard with an industrial PC and FullCircle™ software suite to administer batch operations and real-time control.
Download PythonX Plate Brochure
The complete PythonX Plate Brochure will give you full details on the PythonX Plate machine and its capabilities. Please download today and then give us a call for a quote and any questions you may have at 1-833-PYTHONX.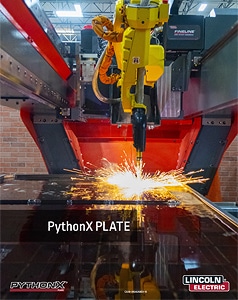 Inkjet Marking Capability
InkJet marking is available to assist your complete cutting operation. This capability streamlines the production of your entire work flow.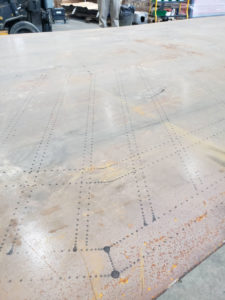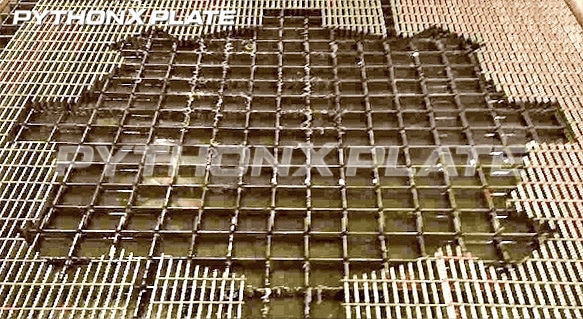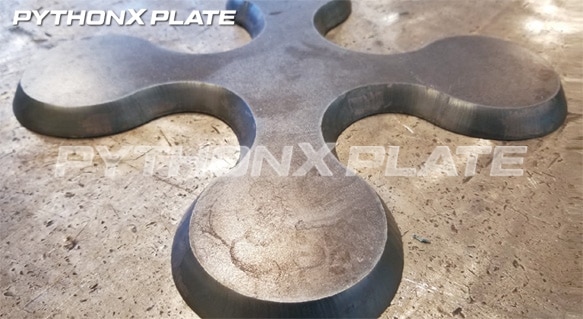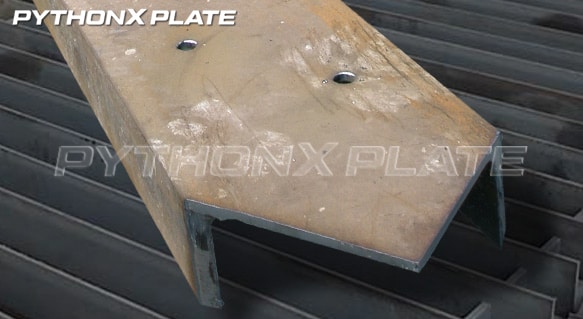 FullCircle® Robotic CNC Software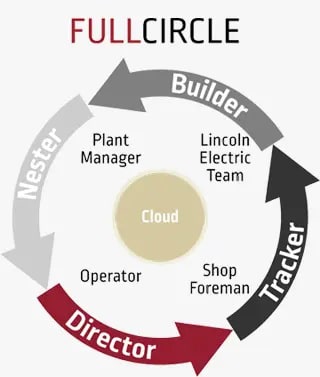 FullCircle software, standard on PythonX PLATE, boosts your productivity, cuts costs, and controls every aspect of production. But it's more than a machine control:
Auto Height Control extends consumable life
Perform on-the-fly path jogging and editing
Maintain detailed parts production tracking
Optimize leads, paths, and plasma settings
Optimize production efficiency using archived machine statistics
It's four software modules – Builder, Nester, Director and Tracker – are another reason PythonX SPG leads the industry in versatility and performance.
BUILDER




Quickly, easily detail parts from scratch. The part drawing can then be used to auto-program the machine.

NESTER




Nest structural profiles and complex jobs with ease. Minimizes scrap and material handling.

DIRECTOR




Confidently produce parts and control all aspects of the production process. Includes automatic height control feature.

TRACKER




Automatically stored machine statistics let you analyze production so you can increase efficiency.